I picked up an old Aries windvane with the thought of putting her on Vixen. I would love to have Freehand vane that Larry Pardey designed but Vixen is an old Topsail Gaff Rig with running backstays so not an option. My first question, I've heard Aries have a very good reputation but does anyone have any first hand experience with one on a BCC?
Here is my thoughts on an Aries and why it might be a good fit for a gaff rigged BCC. I came across a picture of Vixen with a Monitor Windvane from a long time ago. Vixen still has the brackets but not the vane, she was stripped of her goodies long ago.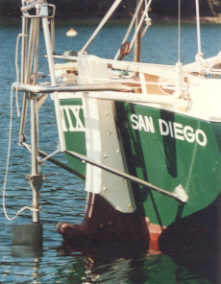 I've heard Monitors are very good and I really like it how it sits outside of the rudder head and protects it. I've seen a few collisions where outboard rudders were taken out in racing collisions and one boat even sailed straight into the rocks. So, it is like a rollbar for the rudder. It looks a bit too modern, complicated, not integrated. The original owner of Vixen told me he wasn't a fan of it either.
My thought with the old Aries #3 is that it is in the same place but with only two big bars that connect to the transom. Much less complex, still protects the rudderhead.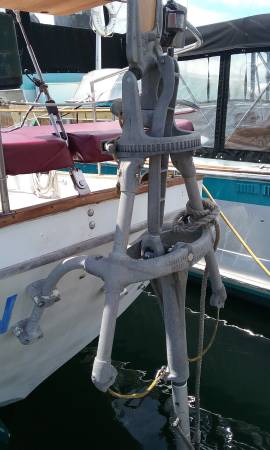 Aries #3 use two heavy walled 1 1/2" alloy tubing to connect the vane to the boat. In this picture above, they bent the tubing and attached to the transom. I'd like to cut two 1 1/2" holes in Vixen's transom and run the tubing right under the deck. I would attach the tubing using their brackets under the deck in the lazarette making a very strong support.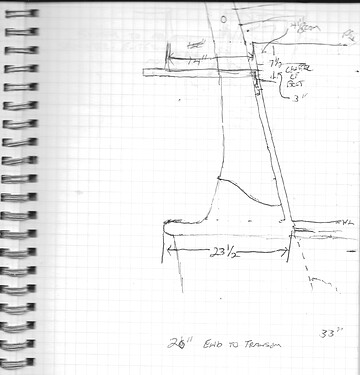 The last reason for this arrangement is that I have to pull the rudder off. Vixen is stored in a yard without much in the way of equipment. I was thinking the Aries tubing and bracket might be a nice little gantry for attaching block and tackle to lift the rudder up and off the pintles and controlling the descent. OK, I'm probably overthinking this but I broke a rudder like this removing it from a smaller boat long ago.