Edit - found a boat, no longer searching. Thank you all for reaching out.
-Matt
Hi Matt,
I've got a BCC for sale that has a rich cruising history, but needs TLC and a rig. She is on a very heavy duty commercially made trailer. She is in Washington state. I'm asking $45,000
Thanks David! I believe we spoke last year.
Avei'a looks like a great boat, but needs more TLC than I can offer her right now. If my situation changes and I can take on Avei'a I will certainly reach out.
I hope you are well!
Matt, there are many many BCCs on YachtWorld lying on both coasts, Texas and Canada.
Thanks for your message Richard. I've been traveling to view Sam Morse boats listed on brokerage websites and will probably end up moving forward with one of these.
So far the boats I've seen have not been quite what I'm looking for (well maintained with simple systems). I may not find what I'm looking for but it's worth a shot !
See Craigslist New Hampshire, Maine for Bcc 28
Thank you. I will reach out
2014 Bristol Channel Cutter Channel Cutter 28
Hull built in 1977, then stored inside unfinished. Finished between 2012 and the launch on 2014. when she was fit & finished by Gannon & Benjamin, Martha's Vineyard, Massachusetts.
Fittings are bronze.
Beta marine 28HP 2014 diesel. 32 gal fuel. Feathering prop
Galley has a diesel stove that doubles as a cabin heater. Has hot water in galley, head and shower. 64 gal of water
1 double berth/ 2 singles
Oversized winches. Roller furling on Genoa and job.
From survey done this past Fall (2022):
"This 1977 Bristol 28 Channel Cutter finished in 2014 was found to be in overall good condition for its age. It is obvious that ownership has taken great pride in the vessel and has finished it with high quality components as well as an excellent maintenance program in place with all systems and appurtenances, including upholstery, engine and bilge spaces fit and finish, in good condition."
Carloscc2944@yahoo.com if interested
Carlos, thank you - I will be in touch.
Stan, I have seen Waxwing in person, and I enjoyed the opportunity. The layout is a great use of space, and I found she had some very thoughtful features. Waxwing is certainly a great value at this price.
I need to see more boats before making a decision, but Waxwing is on my list.
Hi Matt
Checking to see if you have found the quality BCC that you were looking for?
I represent Hull #126, Stravaigin ll and she is about to go up on YW.
Well-equipped and maintained and in incredible condition!
Inquires to derek@davidwaltersyachts.com
Offered at $169,000
Thank you Derek, Stravaigin looks like a great boat. She is outside of my budget right now but if that changes I will reach out.
Hi Matt,
Still interested?
We're in Maine. We have begun prepping Jolie Brise for sale, likely next summer, but your description of what you are looking for looks like a good fit with our boat.
If you're still looking at BCCs, let me know, and I can put together some photos and a description to email you.
Best,
Ellen Dawson
Hey Ellen,
I recently changed directions and purchased a Crealock 37.
Best of luck to you with Jolie Brise, it looks like a really nice BCC.
Thank you,
Matt
Congratuations, Matt!
Enjoy.
Ellen
I am in the process of buying your boat from a fellow I presume you sold it to, or perhaps there's been a few owners in between. I'd love to get in touch with you to learn more about its history & where it has sailed.
Would you be willing to connect at some point? There appears to be some confusion on the hull number and when it was built & when it was completed inside. I think it's hull number 069, but not sure. Looks like this friday we will be completing the paperwork.
Its history will be of great interest to us.
Unless I'm confused if there are two BCC boats of the same name.
Hi Michael,
I think you are mistaken. We have owned Jolie Brise since 2010, and though we are prepping her for sale (probably listing her next summer), have not offered her for sale yet.
Our Jolie Brise is a boat built and finished by Sam L. Morse in 1985 (though her hull number has her as a December 1984 boat). Her HIN is SFJBC0691284. She bears the name that was given to her by her first owner. Her HIN is etched inside the lazarette, and recorded on her USCG documentation records.
I may be telling you something you already know, but since there appears to be some confusion, it is possible that you are in the process of purchasing a BCC that was purchased as a bare hull, to be finished out by the owner. I think this did occur. I'm not sure how those bare hulls were assigned HINs, or whether there's any possibility that 69 may have been assigned to an owner-finished BCC. Try to get a look at the HIN itself, which is supposed to be indelibly etched somewhere inside the boat (sometimes they're etched on the transom or side near the aft end). If you complete the purchase, the agent you use to transfer the title (or documentation, if it's documented) will expect a clear record stating the HIN.
I've attached two photos of our Jolie Brise so you can compare her with the boat you're in process of purchasing.
Good luck, and (in advance) congratulations!
Best regards,
Ellen Dawson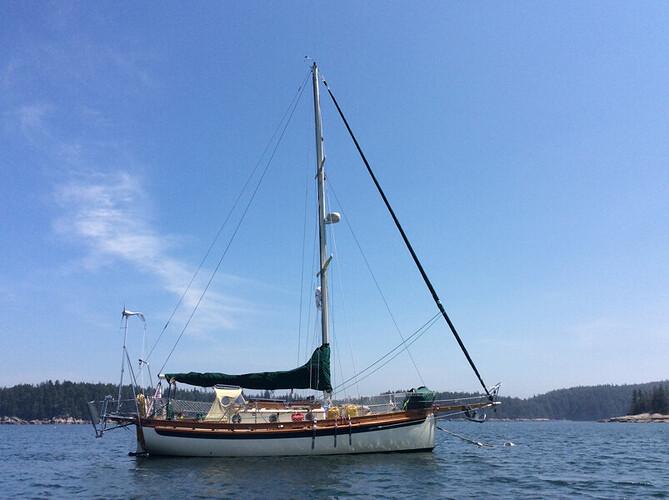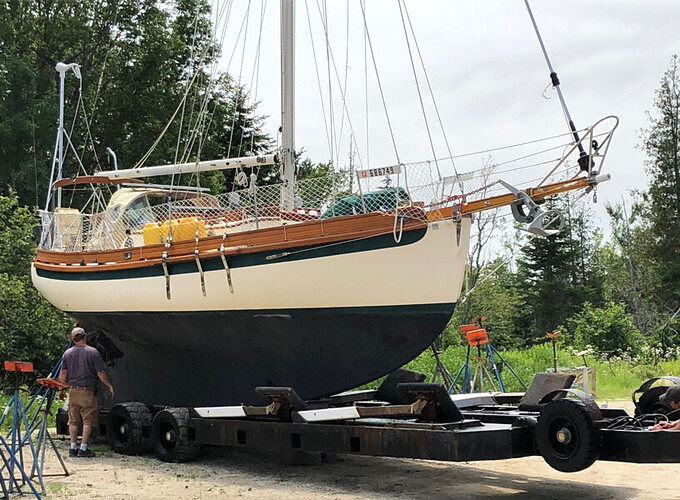 I ordered a report online and it looks like the one I'm considering was Called "My Way" and is hull 13. It doesn't have the factory built interior, which I find disappointing. At some point after 2013 it appears to be renamed to Jolie Brise. Lots to learn!
If your boat is for sale, how much are you asking and what shape is it in? Leaks? Engine hours? Interior pictures would be great. I'm curious how it compares to the one I'm looking at.
Also you can text me info or call if that suits better. 902-302-2424
We live on Isle Madame in Arichat, Nova Scotia.
Cheers!
Michael Jarman